LCD & Touch Screen Replacement, Repair, Service & Support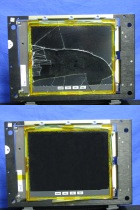 Broken, Cracked or Defective LCD or Touch Screen?
Paragon has a highly-trained team of qualified engineers and technicians to provide replacement and repairs on most test equipment LCD & touch screen panels.
Our technicians have the know-how and experience to troubleshoot problems and either repair or replace most lcd & touch screens.
In the event that a repair or replacement is needed, our lcd screen repair shop has the necessary components to repair or replace most lcd screens, no matter where they were purchased or which test equipment manufacturer provided.
Our LCD & Touch Screen Services include:
Free evaluation report of LCD panel condition
Free Time & Material estimate reports
Paragon also provides custom engineering services for other test equipment applications. Our standard depot repair rate is $125/hour for engineering/repair services.
You can Call us at 1-800-370-0123 to discuss your lcd or touchscreen panel needs
or simply fill out our LCD / Touch Screen Repair Form.