Paragon Easy-Box - Asset Recovery Made Simple
Paragon Easy-Box is an easy way for you to consolidate smaller lots of equipment for quick and simple removal. Our five step program simplifies your asset recovery project, freeing you to focus on your business.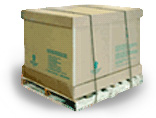 Paragon's Simple Easy-Box 5-Step Process:
Contact Paragon to order a Paragon Easy-Box shipping container.
A Paragon Easy-Box container will arrive at your location within 3-5 days.
Load itemized equipment into the Paragon Easy-Box container and seal according to instructions.
Contact Paragon representative to request pickup.
The Paragon Easy-Box container will be picked up within 3-5 days.
Call an Asset Recovery Manager today!
Contact us directly at:
Telephone: 978-649-0722
Toll Free: 800-370-0123
Email Us: